Friday, September 18, 2020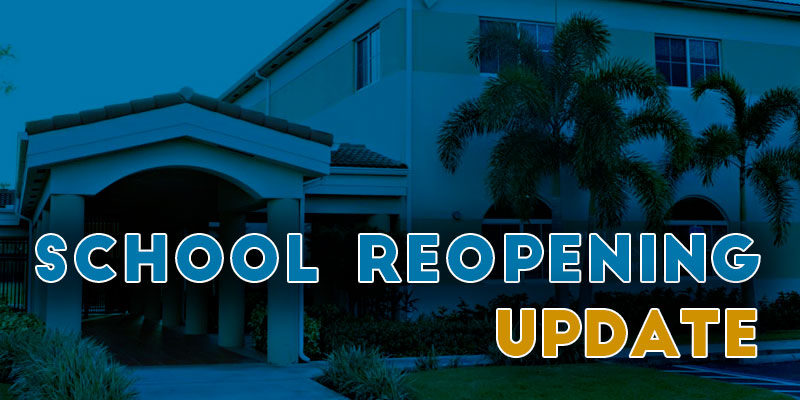 A correction has been made to next week's phase in schedule. Please refer to the schedule below.
With much excitement, we welcomed back some of our on campus students during our Day 1 & 2 of the synchronous instruction. It was great to see and hear students after such a long time. We look forward to continuing the phase in process next week and welcoming more students on campus.
Week of 9/28/2020 - Phase - In Schedule: (PK-3 and PK- 4 will continue to follow daily on campus schedules)
During the "Phase - In" period, where instruction takes place from 7:45 A.M. - 11:00 A.M., those students may NOT have special area subjects, as special area teachers will be following a Virtual Schedule with other grades.
Monday, September 28: Kindergarten - 2nd Grade  on campus 7:45 A.M. - 11:00 A.M.
Tuesday, September 29:Kindergarten - 5th Grade  on campus 7:45 A.M. - 11:00 A.M.

6th - 8th Grade Full Day Virtual Schedule

Wednesday, September 30: Kindergarten - 8th Grade  on campus/virtual synchronous instruction

Full Day for All Students
On-Campus/Virtual Synchronous instruction will begin on Wednesday, September 30th for the entire school, and will continue until further notice. All on-campus students will report to school each day. Both on-campus and virtual students will follow a new class schedule for synchronous instruction.
During the phase in period, students in grades reporting to campus will have early dismissal at 11:00 A.M. (Both students on campus and virtual students will be dismissed at the time.) There will be no aftercare at this time. All students on campus must be picked up at their designated dismissal time.
Please be reminded to review the Phase In Schedule for grade specific instructions. We ask that all parents and students please carefully read our Return to Campus Procedures and check that everything on the Return to Campus Checklist is done before your child's arrival at OLOL.
Students are to come to school in their regular school uniform, wearing a school approved mask and be properly groomed. Please follow uniform instructions if your uniform items are on backorder. Please label all belongings. In addition to supplies requested by teachers, all students must bring:
Fully charged school issued iPad
earbuds
hand sanitizer
water bottle with their name on it
Thank you for everyone's cooperation and patience as we learn many new procedures together.